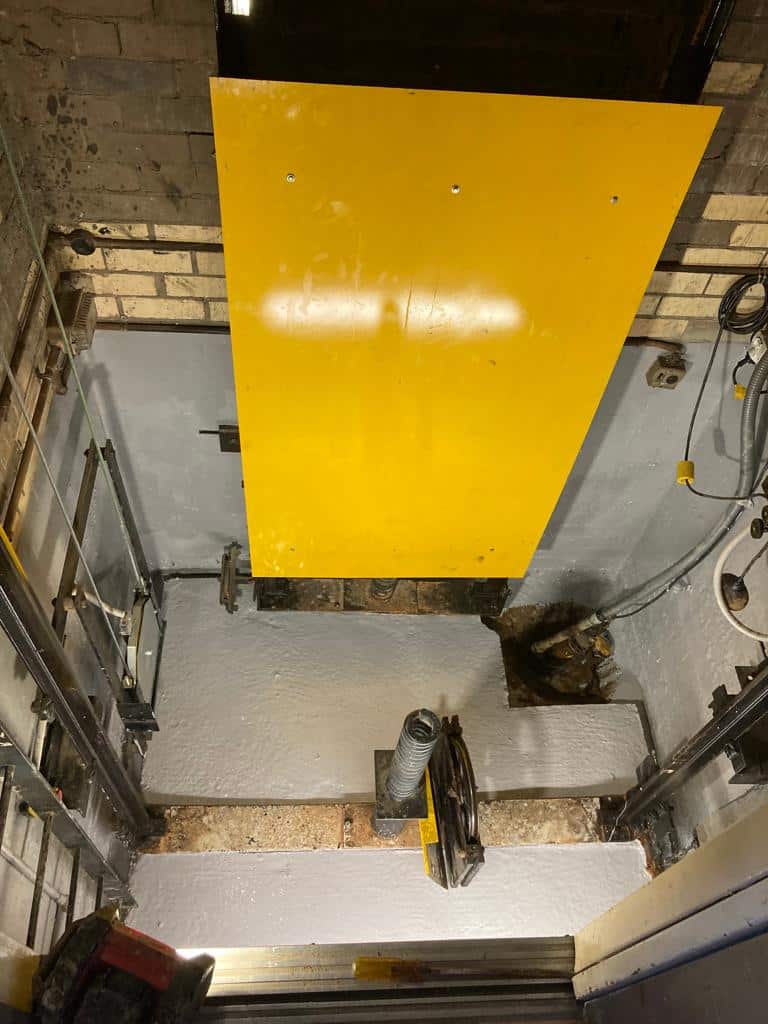 08 Apr

Water leaking into the lift pit can result in a broken-down lift

Posted at 17:19h

in

Basement Seepage

,

Basement Waterproofing Repair

,

building defect restoration

,

Building Maintenance

,

Concrete and masonry protection

,

concrete crack injection

,

Concrete defect repair

,

concrete repair specialist Brisbane

,

Concrete repair specialist Brisbane QLD

,

concrete repair specialist Sydney NSW

,

Confined Space

,

confined space qualified

,

Damp Walls

,

Environmentally friendly

,

Epoxy Coating

,

Gold Coast

,

Leak Sealing Injection

,

Leak sealing injection specialist

,

Leak sealing injection specialist Brisbane Gold Coast Sunshine Coast QLD

,

Leak sealing injection specialist Sydney NSW

,

Lift pit leak sealing

,

Lift pit waterproofing repair

,

Protective concrete coating

,

rain

,

Remedial rooftop waterproofing specialist Brisbane Gold Coast Sunshine Coast QLD

,

Remedial rooftop waterproofing specialist Sydney NSW

,

Remedial Waterproofing

,

Retaining wall waterproofing

,

retention pit

,

Reverse side membrane

,

Sunshine Coast QLD
---
---
𝗔𝘃𝗼𝗶𝗱 𝗮 𝗯𝗿𝗼𝗸𝗲𝗻-𝗱𝗼𝘄𝗻 𝗹𝗶𝗳𝘁.
We deliver remedial leak sealing solutions to stop water intrusion in lift pits.
LOOK AT THE AMOUNT OF WATER IN THIS LIFT PIT AND THE REMEDIAL WATERPROOFING RESULT IN THIS VIDEO:
The lift pit and lift shaft hold all the technology and electric mechanisms connected to the lift itself, so if water is leaking into the lift pit or the lift shaft there is a real potential of costly damage to the lift if the water ingress is not rectified in due time. In addition to potentially expensive repairs to the lift system, electrical or mechanical failures can cause abrupt stops where passengers may risk sustaining injuries.
If you notice that your lift pit and/or lift shaft is taking in water, please contact us at Waterstop Solutions. Our team of experts in leak sealing and concrete repairs will provide a cost-effective solution that will ensure that the lift pit is a dry environment, that in turn will help protect your asset from breakdowns caused by water ingress.
There are several reasons why lift pits start to leak and many people ask us why does lift pit waterproofing fail so often?
A common problem with lift pits is that groundwater leaks into the lift pit area, especially during and after heavy or prolonged rain events when the water table rises. Lots of rainy days, rising water table, saturated soil and hydrostatic pressure – All making lift pits and basements extra vulnerable to water ingress.
𝗪𝗲 𝗼𝗳𝘁𝗲𝗻 𝗱𝗶𝘀𝗰𝗼𝘃𝗲𝗿 𝘁𝗵𝗮𝘁 𝘁𝗵𝗲 𝗰𝗮𝘂𝘀𝗲𝘀 𝗼𝗳 𝘄𝗮𝘁𝗲𝗿 𝗶𝗻𝗴𝗿𝗲𝘀𝘀 𝗽𝗿𝗼𝗯𝗹𝗲𝗺𝘀 𝗶𝗻 𝗹𝗶𝗳𝘁 𝗽𝗶𝘁𝘀 𝗮𝗿𝗲 𝗱𝘂𝗲 𝘁𝗼:
– Incorrectly installed or damaged waterproofing system.
– The pit is too old for any effective waterproofing system to have been originally installed.
– Floor/wall joint acts as a passageway for water ingress.
– Defects and cracks in walls and floor that have evolved over the years, sometimes caused by movement.
– Deteriorated construction components.
– Altered water table levels.
=> 𝗜𝘁 𝗶𝘀 𝗮𝗹𝘀𝗼 𝘄𝗼𝗿𝘁𝗵 𝗺𝗲𝗻𝘁𝗶𝗼𝗻𝗶𝗻𝗴 𝘁𝗵𝗮𝘁 𝘁𝗵𝗲 𝘄𝗮𝘁𝗲𝗿 𝘁𝗮𝗯𝗹𝗲 𝗰𝗮𝗻 𝗯𝗲 𝗮𝗹𝘁𝗲𝗿𝗲𝗱 𝗯𝘆 𝗮𝗱𝗷𝗮𝗰𝗲𝗻𝘁 𝗰𝗼𝗻𝘀𝘁𝗿𝘂𝗰𝘁𝗶𝗼𝗻, 𝘀𝗼 𝗮 𝗹𝗶𝗳𝘁 𝗽𝗶𝘁 𝘁𝗵𝗮𝘁 𝘂𝘀𝗲𝗱 𝘁𝗼 𝗯𝗲 𝗱𝗿𝘆 𝗰𝗮𝗻 𝗻𝗼𝘄 𝗯𝗲 𝗮𝘁 𝗿𝗶𝘀𝗸 𝗼𝗳 𝘄𝗮𝘁𝗲𝗿 𝗶𝗻𝗳𝗶𝗹𝘁𝗿𝗮𝘁𝗶𝗼𝗻.
The remedial waterproofing solution
We at Waterstop Solutions can remediate your leaking lift pit and lift shaft to a dry and safe condition and help protect your asset from breakdowns caused by water ingress. Our leak sealing specialists leak seal inject and install waterproofing systems in lift pits that are of any age in hotels, commercial buildings, factories, multilevel apartment buildings, schools aged care facilities and hospitals.
As an example of a remedial waterproofing solution to treat the water intrusion in a lift pit, our leak sealing specialist injects a high-quality water-reactive hydrophilic polyurethane resin under high pressure to joints and leaking cracks (where applicable).*
The benefit of this system is that it provides a flexible seal to the full depth of the treated joints and cracks. The injection system creates a 3D waterproof seal inside the concrete and masonry structures. This procedure fault finds and treats unidentified at-risk adjacent areas, offers additional protection to any steel reinforcing in the path of the crack and slows the corrosion to any possible compromised reinforcing steel or yet to be.
Once the leak sealing injections are completed, the injection ports are removed, and the holes and cracks are plugged with rapid-setting repair mortar followed by a thorough surface preparation of the surfaces before installing a reverse side waterproofing system (where applicable).*
* Different sites often have different situations regarding water ingress. Our process is to fully assess each site before we recommend a specific solution. We conduct preliminary on-site inspections involving diagnosing the problem(s), assessing possible complications and designing solutions for the specific site.
---
Is your building ready to cope with the next big storm?
Get ahead on your maintenance and remedial repair work plans to help ensure that your building's minor problems are fixed today so that they do not become major problems tomorrow.
A small fix that prevents damage to assets and deterioration of the building is an extremely cost-effective and reliable way to retain the building's value. Perhaps most importantly, reasonable planning and action provide peace of mind.
Give us a call to discuss the best protective treatment application for your vertical and horizontal surfaces to help you choose the appropriate product and methods to protect them and how to best prepare the surface before installation for best performance.
If you have any issues with water ingress, rooftop leaks, leaking balcony, leaking basement, wet lift pit, cracking concrete slabs, structural cracks, concrete deterioration, spalling concrete, concrete cancer, deteriorated joints, moisture, seepage, efflorescence, rising damp and/or high-flow active leaks in concrete structures, we would be happy to assist you. You are welcome to contact us with any questions that you may have.
𝗕𝗼𝗼𝗸 𝗮𝗻 𝗶𝗻𝘀𝗽𝗲𝗰𝘁𝗶𝗼𝗻 𝘄𝗶𝘁𝗵 𝗼𝗻𝗲 𝗼𝗳 𝗼𝘂𝗿 𝗲𝘅𝗽𝗲𝗿𝗶𝗲𝗻𝗰𝗲𝗱 𝗶𝗻𝘀𝗽𝗲𝗰𝘁𝗼𝗿𝘀 𝘁𝗼𝗱𝗮𝘆!
Waterstop Solutions inspectors are equipped with extensive industry knowledge and the latest in non-invasive inspection technologies. Our thorough site assessment and diagnosis process provides our clients with industry-leading, expert advice.
𝗜𝗻 𝗮𝗱𝗱𝗶𝘁𝗶𝗼𝗻 𝘁𝗼 𝗼𝘂𝗿 𝗿𝗲𝗴𝘂𝗹𝗮𝗿 𝗶𝗻𝘀𝗽𝗲𝗰𝘁𝗶𝗼𝗻 𝘀𝗲𝗿𝘃𝗶𝗰𝗲, 𝘄𝗲 𝗰𝗮𝗻 𝗽𝗿𝗼𝘃𝗶𝗱𝗲 𝗮𝘂𝗱𝗶𝘁𝘀 𝗼𝗳 𝗺𝘂𝗹𝘁𝗶-𝘀𝘁𝗼𝗿𝘆 𝗰𝗼𝗻𝗰𝗿𝗲𝘁𝗲 𝗯𝘂𝗶𝗹𝗱𝗶𝗻𝗴𝘀.
The audit consists of a defect information list of items classed in priorities from P1 to P4, and their repair types. Ask us about how to secure a booking for this additional service.
Brisbane office: (07) 3205 1899   
Email: [email protected]
Sydney office: (02) 9346 8308   
Email: [email protected]
---
Are you interested in finding out more about the various remedial building services we are providing?
Please click on the image below to download Waterstop Solutions Capability Statement
Waterstop Solutions Capability Statement is now available to download as PDF. (The image is clickable and opens up a link to our Capability Statement). 
---
Good maintenance begins with a proactive approach to maintain, keep, preserve and protect a building. 
Remember that seepage/water ingress into areas such as balconies, basements, concrete roofs, car parks and retaining walls, should not be ignored – call a remedial waterproofing professional today for an assessment to provide you with the best solution for your situation.
At Waterstop Solutions, we carry out a wide range of remedial works to concrete structures post-construction stage in Brisbane, Gold Coast, Sunshine Coast, Sydney and outlying areas in Queensland and New South Wales.
Equipped with major civil works experience, we can quickly determine the best approach to rectify all seepage and concrete deterioration issues.
---
It takes licenced remedial waterproofer and leak sealing experts like us at Waterstop Solutions to ensure that the pathways for water to ingress are properly sealed off. A depth of technical knowledge and experience, along with a proud reputation for integrity and reliability, has made Waterstop Solutions the go-to company for many Defect Managers working for major construction companies across Queensland and New South Wales.
We at Waterstop Solutions have the technical and practical expertise to diagnose the source of the leak and will provide you with our recommended solution to achieving an effective, high-quality, long-lasting repair to stop the water ingress with minimal disruption
We believe in and are committed to always delivering high-quality solutions by utilising the right products and techniques for each specific project combined with our industry-leading know-how on tap. We have a large talent pool of specialist leak sealing and concrete repair technicians with Certificate III in construction waterproofing in Queensland and New South Wales that are extensively trained in our systems and project execution methods.
The leadership positions on every Waterstop Solutions project are operated by highly qualified, certified and experienced industry professionals. Our in-house skills and expertise gained from more than 60 years of industry experience provide a full range of high-quality remedial waterproofing and concrete repair works to commercial buildings, civil infrastructures, industrial sites and residential properties. From waterproofing diagnostics, preventative and remediation solutions – All of our waterproofing solutions are quality guaranteed.